Mission
With Saint Joseph as our sponsor, guide, and foster-father, the Sons of Saint Joseph are Christian men who hope to overcome all same-sex attractions and any persistent attachments to the homosexual or the "gay" orientation. This will be accomplished through: frequent reception of the Sacraments, daily prayer, spiritual direction, self-sacrifice, corporal and spiritual works of mercy, professional counseling, and by developing the virtues of prudence, temperance, and courage. In doing so, we wish to further our own personal relationship with Jesus Christ, and, as a consequence, become living examples for our brothers who are still trapped within the homosexual lifestyle and within the false "gay" orientation.
We accept Our Lord Jesus Christ as our One and Only Savior.
We accept that only through the Infinite Power and Mercy of Jesus Christ can we be fully healed of homosexual desires.
We accept Saint Joseph, the foster-father of Our Lord, as our gracious benefactor in Heaven.
We look towards Our Blessed Lady, the Theotokos, as the model of humility, obedience, and purity.
We believe and acknowledge that God created us as whole men; we were not born "gay."
We acknowledge that homosexual acts are not part of God's plan for nature, humanity, or ourselves.
We acknowledge that the homosexual inclination is a part of our wounded false-self that can be healed.
We acknowledge that all unmarried persons are called to chastity.
Attendance at Divine Liturgy every Sunday and on Holy Days of Obligation; and during the week when possible.
Daily prayer and meditation (a minimum of one hour) which should include at least one of the following:

The Jesus Prayer, Eucharistic Adoration (if you are a Roman Catholic,) reading from Holy Scripture, studying the lives and writings of the Saints, especially those works related to our Patron Saint Joseph, recitation of the Holy Rosary, the Chaplet of Divine Mercy, and the Chaplet or Novena to Saint Joseph. For more information see Fr. Donald Calloway's "Consecration to St. Joseph." 

Set up an "icon corner" in your house or bedroom; specifically with an icon of Saint Joseph or an icon from the life of Christ which includes Saint Joseph; for example, The Birth of Christ or The Presentation in the Temple.
Going about our daily work as did Saint Joseph: with a countenance of fortitude, humility, and silence.
Some sort of propitiation: fasting, abstinence, self-denial (avoiding television, computer games, the internet, or another enjoyment).
Custody of the eyes: keeping our gaze away from that which is an occasion of sin.
Daily Thanksgiving to Our Lord Jesus Christ.
Daily Act of Contrition.
The Saint Joseph Prayer.
To accept and admit to ourselves and to God that we have been wounded
To forgive those who hurt us.
To understand why we looked towards homosexuality and the "gay" lifestyle as an answer to all our questions.
To eventually heal those old injuries.
To help others escape the "gay" lifestyle and the trap of homosexuality.
To live our lives as a perpetual sacrifice; not only for our own "Christian perfection," but in reparation for those sins committed by all homosexuals.
To become more and more like our foster-father Saint Joseph; to become models of manly virtue, protectors of the weak and the persecuted, and to become obedient servants of Christ and Our Lady.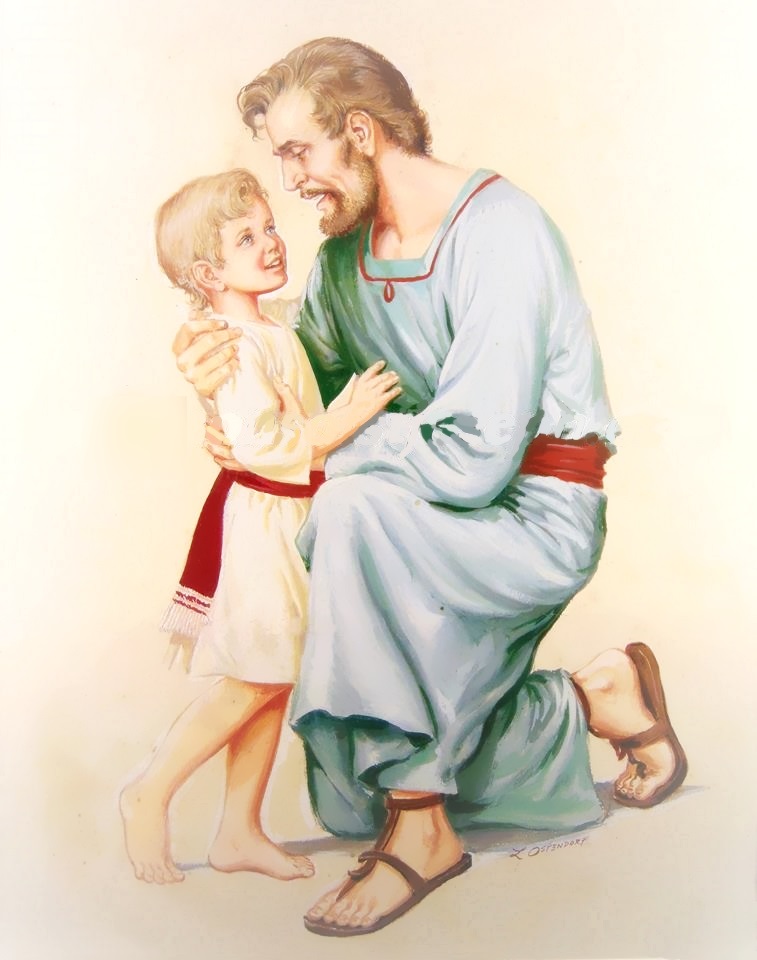 Oh St. Joseph whose protection is so great, so strong, so prompt before the Throne of God, I place in you all my interests and desires.
Oh St. Joseph do assist me by your powerful intercession and obtain for me from your Divine Son all spiritual blessings through Jesus Christ, Our Lord; so that having engage here below your Heavenly power I may offer my Thanksgiving and Homage to the Loving of Fathers.
Oh St. Joseph, I never weary contemplating you and Jesus asleep in your arms. I dare not approach while He reposes near your heart.
Press Him in my name and kiss His fine Head or me, and ask Him to return the kiss when I draw my dying breath.
St. Joseph, Patron of departing souls, pray for us.
Amen
Saint Joseph, model of manly strength, obedience, and chastity
Just as you defended and sheltered the child Jesus
Who God the Father so rightly placed in your loving care
I ask you to be my foster-father and protector.
Joseph most strong,
I humbly implore you to pray for my intentions:
That, with your help, I may embody the teachings of Christ
That I will always remain pure in body, mind, and spirit,
And that I will have the strength to heal from the pains of childhood
And from those wounds I inflicted upon myself.
Deliver us from all same-sex attraction
And make us the whole men that we were born to be.
Joseph most just,
Joseph most chaste,
Joseph most prudent,
Solace of the wretched,
Hope of the sick,
Terror of demons,
Pray for me.
Amen.
Frequently Asked Questions
In the 21st Century, LGBT activists and their allies have repeatedly claimed that gay people are born gay; and trans people are born in the wrong body. But there is no evidence to substantiate any
In order to save my life, God sent me the one saint who perfectly exemplified the human attributes that I most feared: FatherhoodMasculinityStrengthBraveryFortitude For as long as I could remember – I yearned to embody
I never thought I'd be one of those people. I grew up in the North Bay – that largely agricultural, suburban, and affluent section of the San Francisco metro-area that comprises Marin, Sonoma, and Napa
Give me the strength to seek you; Oh, you who allowed me to find you, and who gave me the hope of finding you more and more. – Saint Augustine For much of my life,